Treat Your Child To The Best Kids Tae Kwon Do Classes At Golden Dragon Defense
If you want your child to learn the importance of being active, gain confidence and self-control, and learn real-life self defense tactics, then Golden Dragon Defense is for you! We focus on building your child's character through positive reinforcement grounded in the 5 tenets of Tae Kwon Do: Courtesy, Integrity, Perseverance, Self-Control, and Indomitable Spirit. It is our goal for every child to be successful on and off the mat, inside and outside the Dojang.
Our experienced and skilled instructors are here to take your child's goals to the next level. Our martial arts classes bring together a diverse range of ages, both children and adults, with a focus on improving physical fitness and emotional strength. Whether you're from Pasadena, Glen Burnie, or beyond, we are here to train our future leaders and equip your children for anything life throws their way.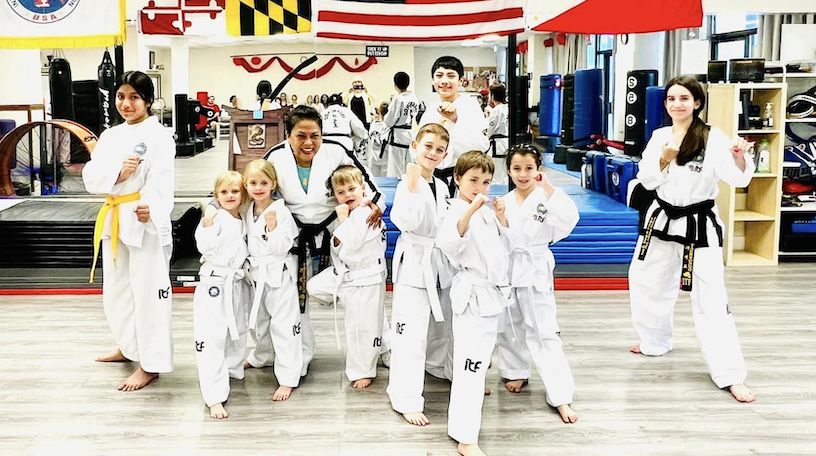 Gain Skills That Will Last A Lifetime With Kids Martial Arts In Pasadena
Our families tell us they see a dramatic difference in their child within a few weeks of arriving at Golden Dragon Defense. The reason? We live as we teach! The martial arts are not a sport to us but a way of life. We live by:
Courtesy
Integrity
Perseverance
Self-control
Indomitable spirit.
We practice these tenets each and every day and build these skills in your child.
We guarantee you will a dramatic difference in your child's work ethic at school, on the mat, and at home in a matter of weeks! On top of your child having a blast at every class, they will also gain valuable skills and benefits that will carry them through life. Below are just a few:
Self-defense and bully prevention tactics to keep them safe
New friendships and mentors
Physical activity that will keep them healthy and active
Improved confidence in everyday life
And so much more!
Learn From The Top Kids Martial Arts School In Pasadena, Glen Burnie, And Beyond!
If you are interested in enrolling your child at Golden Dragon Defense, please fill out the short form on the side of this page. Once you do, we will be in touch shortly to schedule your child's first class. We look forward to hearing from you, and can't wait to see your child on the mat! Golden Dragon Defense accepts ALL abilities, not just the athletic ones. We pride ourselves on our inclusivity and ability to modify TKD to meet all children's needs and capabilities. Come see the variety of abilities by enrolling in a FREE trial class!